After our pandemic Super Bowl party of 3, we had lots of leftovers. I decided to incorporate some leftover spinach artichoke dip into a sandwich using the viral TikTok wrap hack. If you don't have leftover dip, you could always use your favorite store-bought version.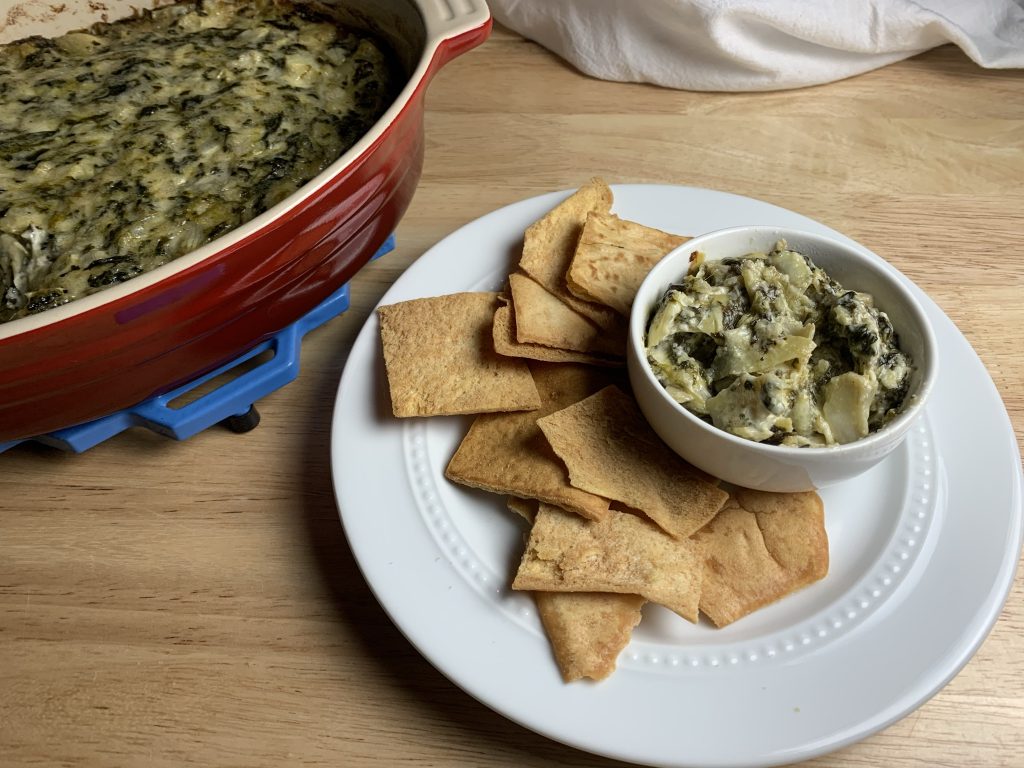 I cook my chicken breasts using this method from Gimme Some Oven, and they always come out perfect. You could also use rotisserie chicken breasts to save time.
Whenever I make wraps using this hack, I put the element that needs protection from the heat in the bottom left quadrant as this will place it in the center. Adding the cheese to the bottom right quadrant puts it on the outside and allows it to serve as the glue holding everything together once melted.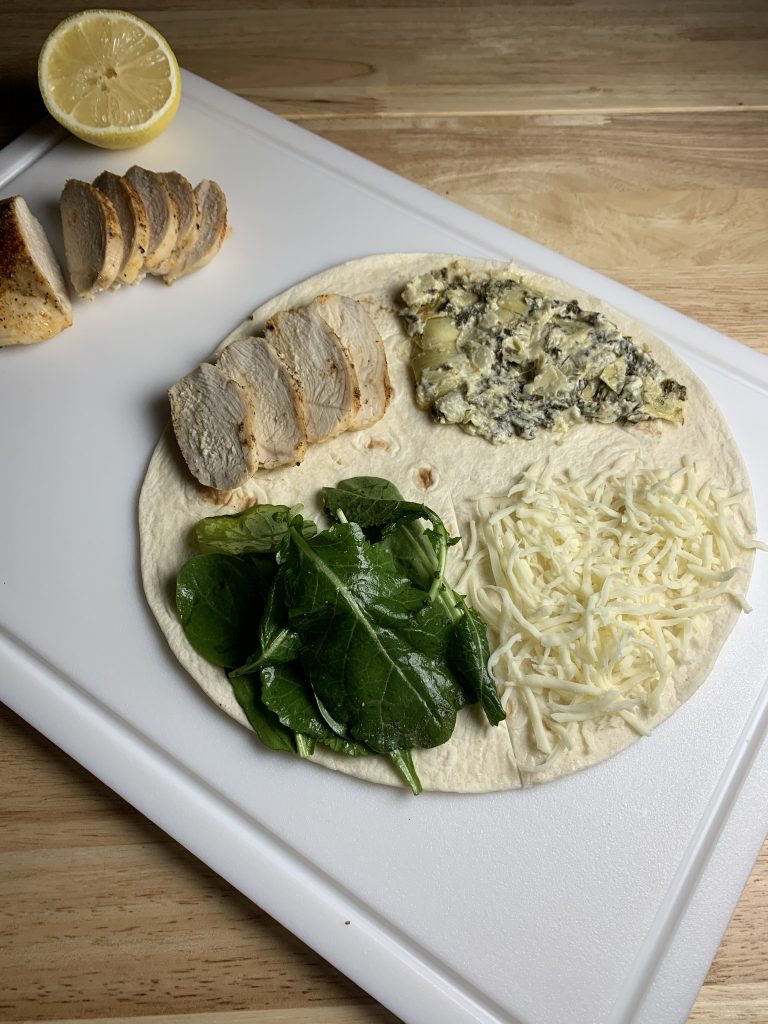 I used a baby kale blend that has baby kale, spinach, and chard, but you could use any greens you have on hand.
There are so many flavor combinations you can make with this wrap method. I baked extra chicken breasts and used some buffalo sauce and Blue Cheese Dressing I had leftover from my Crispy Oven-baked Buffalo Wings to make buffalo chicken wraps the next night. Quarantine Super Bowl party for the weeknight easy-meal-prep win!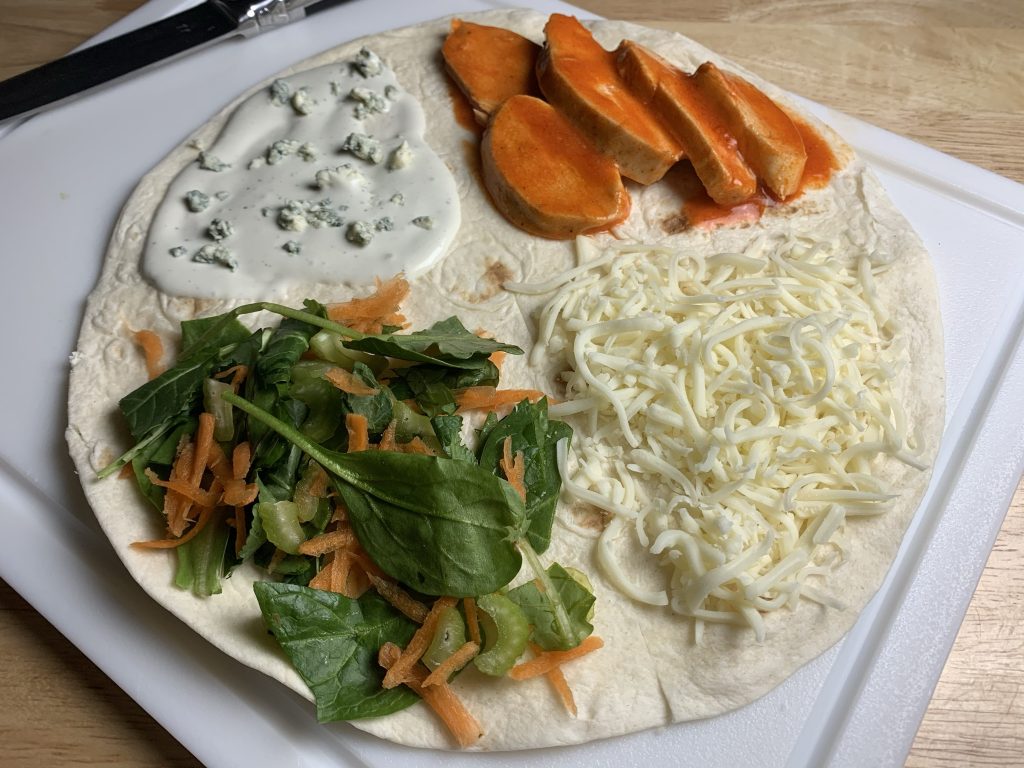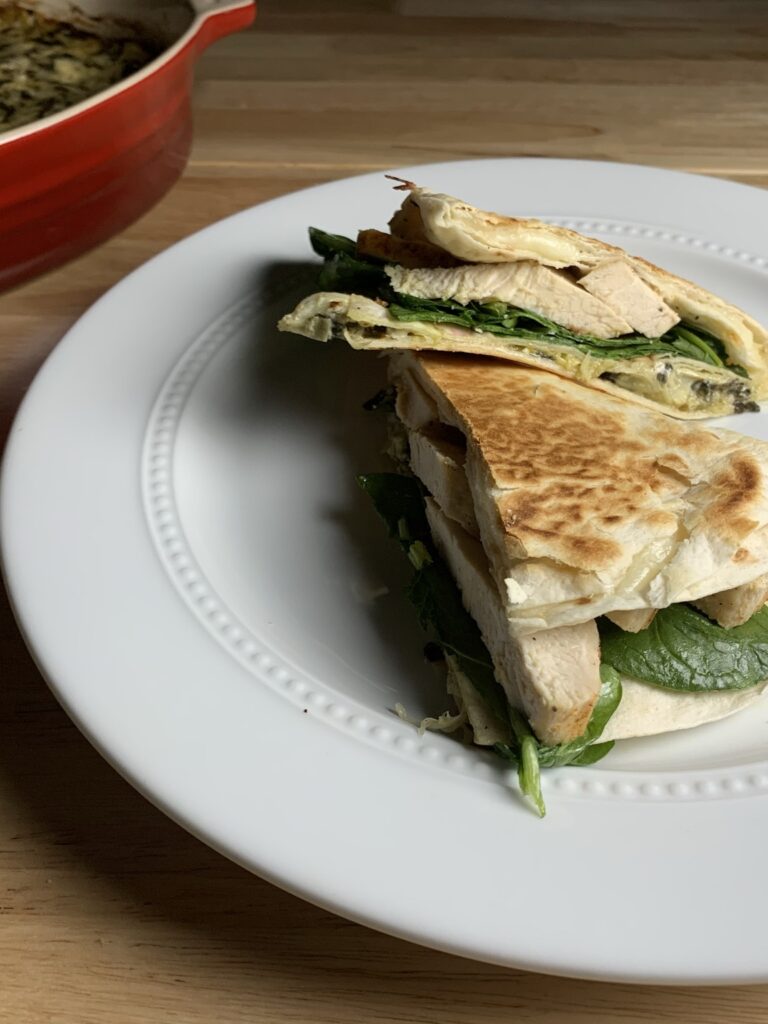 Spinach Artichoke Chicken Wraps
Instructions
Dress the greens

Toss the greens with ½ tsp of olive oil, a squeeze of lemon juice, a pinch of salt, and freshly ground black pepper.

Don't skip this step; the wrap needs the moisture from the dressing.

Prepare the wrap

Cut the tortilla on its radius. Work with the cut side facing you to identify the quadrants.

Add the fillings

In the bottom left quadrant, place ¼ c. of the dressed greens.

In the top left quadrant, place slices of chicken, slightly overlapping.

In the top right quadrant, spread 2 tablespoons of spinach artichoke dip.

In the bottom left quadrant, spread ¼ c. shredded mozzarella.

Repeat for all four tortillas.

Fold the Wraps

Starting with the bottom left quadrant (greens), carefully fold the wrap up and then over and over until you have a triangle.

Heat the wraps

Heat a lightly oiled pan over medium heat. Add the wraps in batches, cooking 2-3 minutes per side. They are ready when golden brown and the cheese is melted.
wrap, wrap hack, sandwich, spinach artichoke, chicken