About the ingredients:
The Bread
You want to select a good French baguette to make your crostini. Get one that's fresh, not frozen. Use a sharp, serrated knife to slice the baguette into ½" slices. For smaller slices, cut straight across; for larger slices, cut on a diagonal. Since I top this crostini with a single blackberry, I went with smaller slices.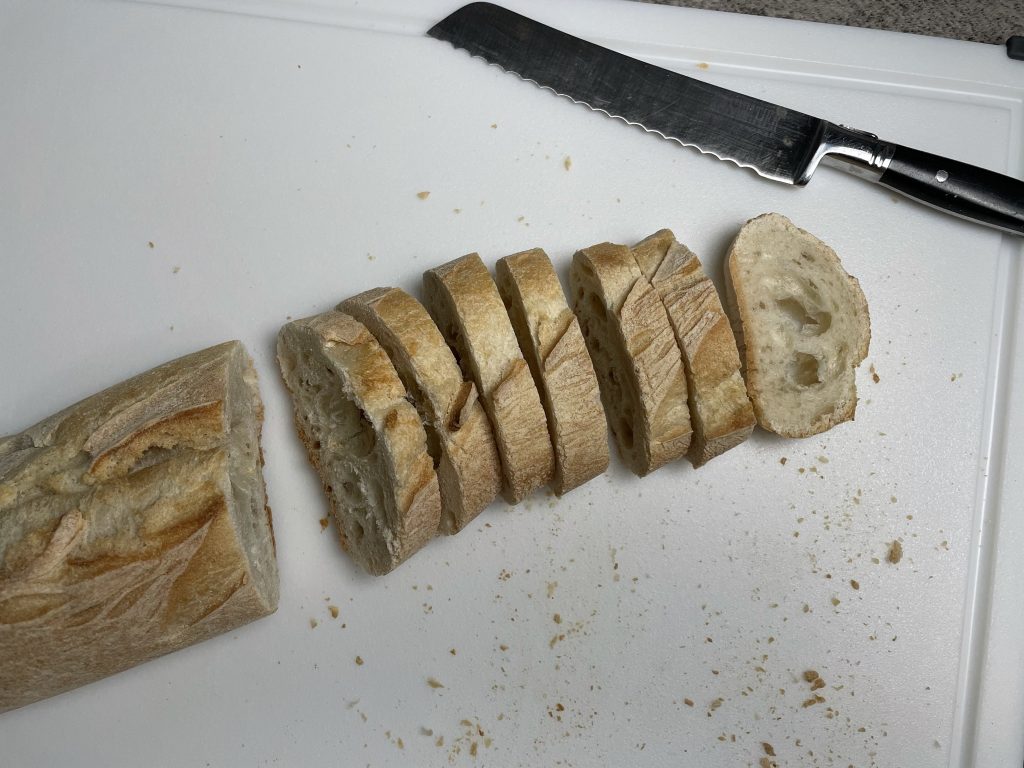 Brush both sides of your slices with extra virgin olive oil and sprinkle them with salt before baking. I always use parchment paper for easy clean-up. Keep an eye on the bread as it bakes. The best crostini are crunchy on the outside but still soft on the inside. You don't want them to dry out and get too crunchy.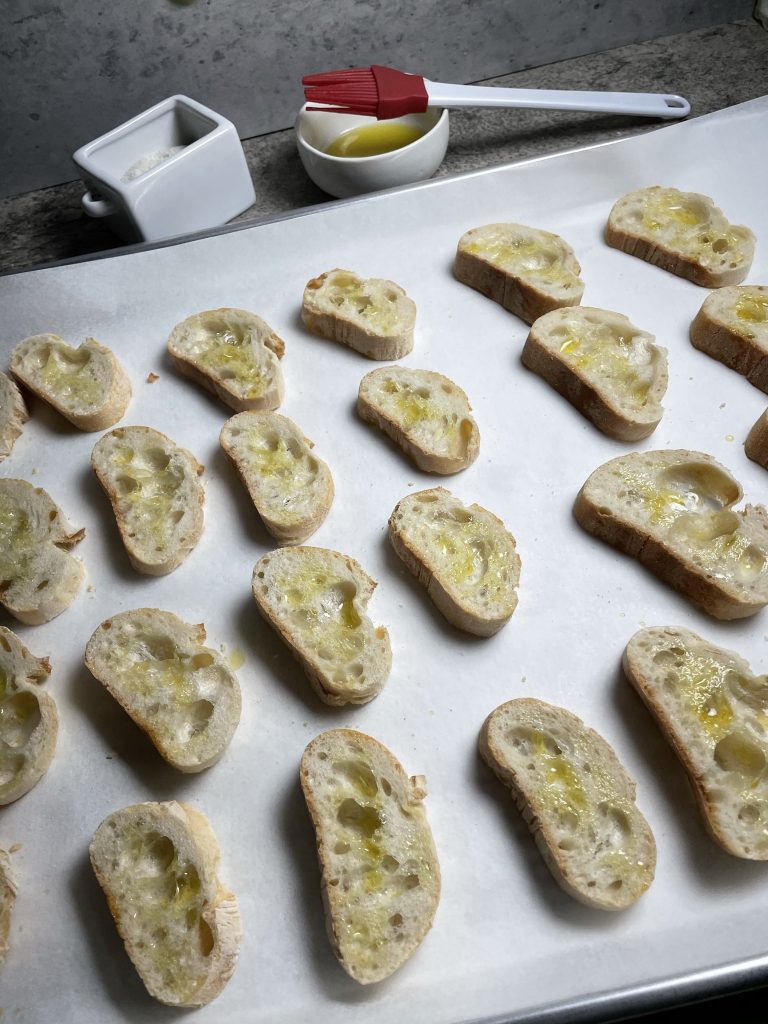 The Cheese
There are many flavored goat cheeses out there, and I can usually find honey goat cheese with ease. Lots of creameries make it, so bonus points if you can find a good local one! If you can't find any, you can use a food processor or hand mixer to combine 4 ounces of softened goat cheese with two tablespoons of honey.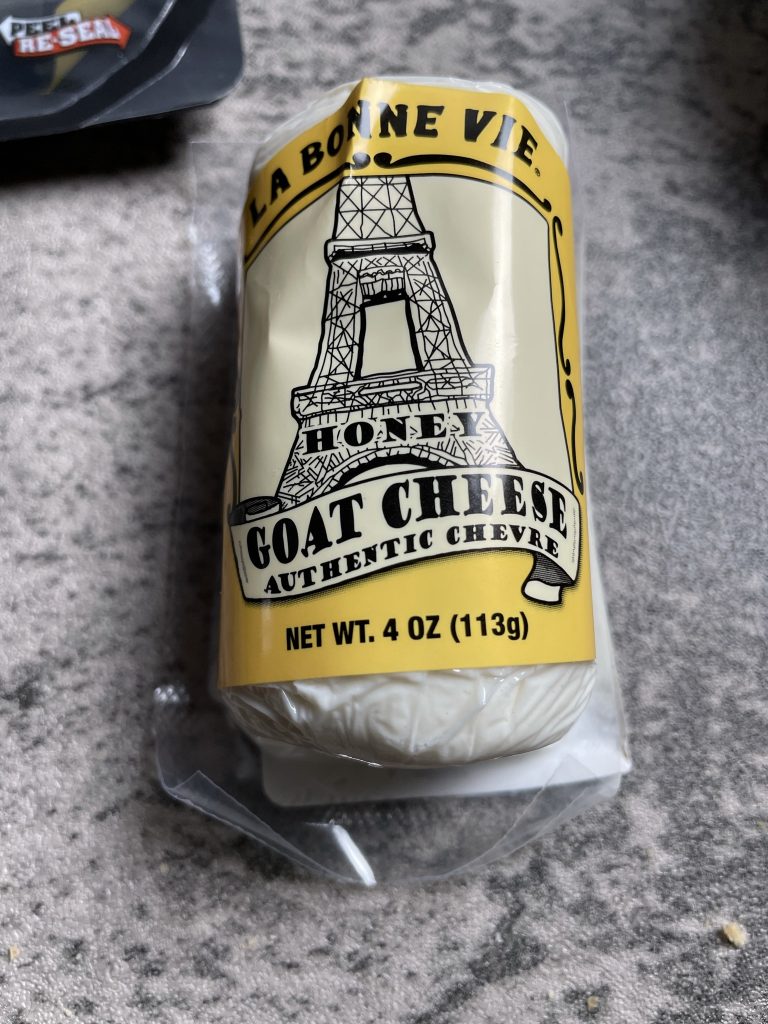 The Prosciutto
When I was shopping, the Prosciutto di Parma was on special, so of course I bought that! It's the gold standard for prosciutto, imported from Parma, Italy. That said, it's generally pretty expensive, and I usually buy the Boar's Head Prosciutto Riserva Stradolce, a domestic prosciutto, that isn't quite as pricey.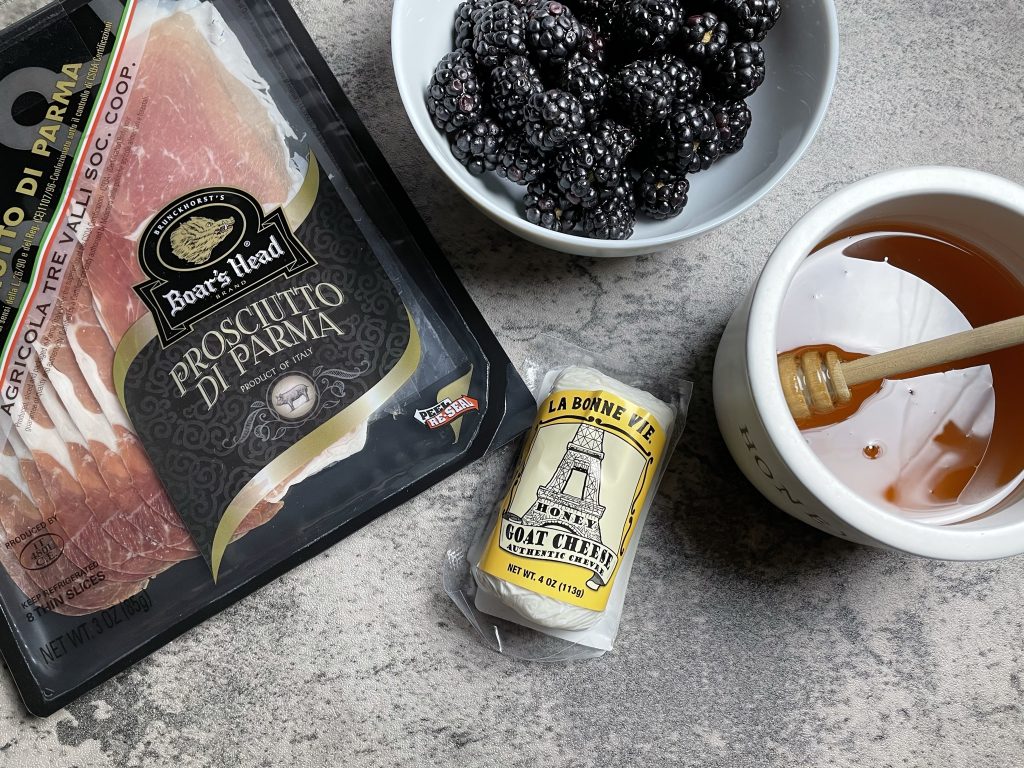 Blackberries and Honey
The sweetness of the blackberries and honey combined with the saltiness of the prosciutto and the tanginess of the goat cheese is flavor heaven. Since there are so many flavors going on in such a small bite, I didn't go crazy with my honey. I used a straightforward, local clover honey.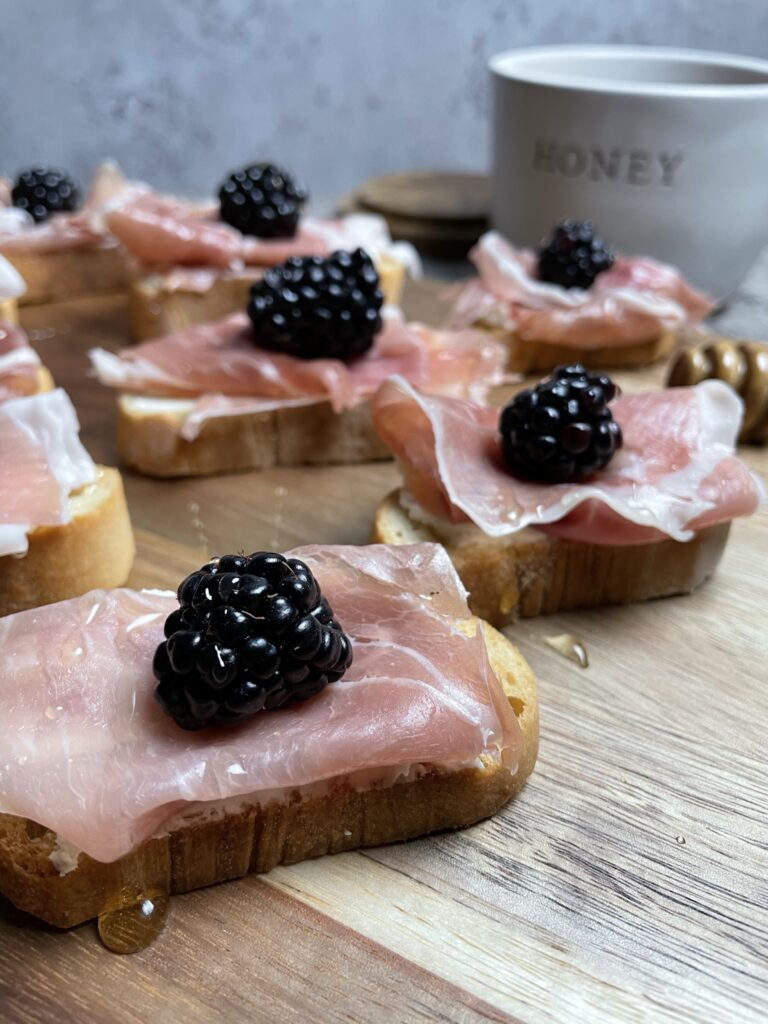 Honey Goat Cheese, Blackberry, and Prosciutto Crostini
Instructions
Prepare the bread.

Preheat the oven to 375℉. Using a serrated knife, slice the baguette into ½" slices. Places the slices on a baking sheet and brush both sides with the olive oil. Sprinkle with salt. Bake for 5-7 minutes, and then flip the slices over. Bake for another 5-7 minutes until browned.

Allow to cool slightly.

Build the crostini.

Once the bread has cooled, you can begin adding the ingredients. Slice the prosciutto in half. Spread goat cheese on each piece. Top each crostini with a half-slice of prosciutto and one blackberry. Drizzle with honey and serve.

If you like, you can use a decorative toothpick to ensure that the blackberry doesn't roll off.
crostini, goat cheese, prosciutto